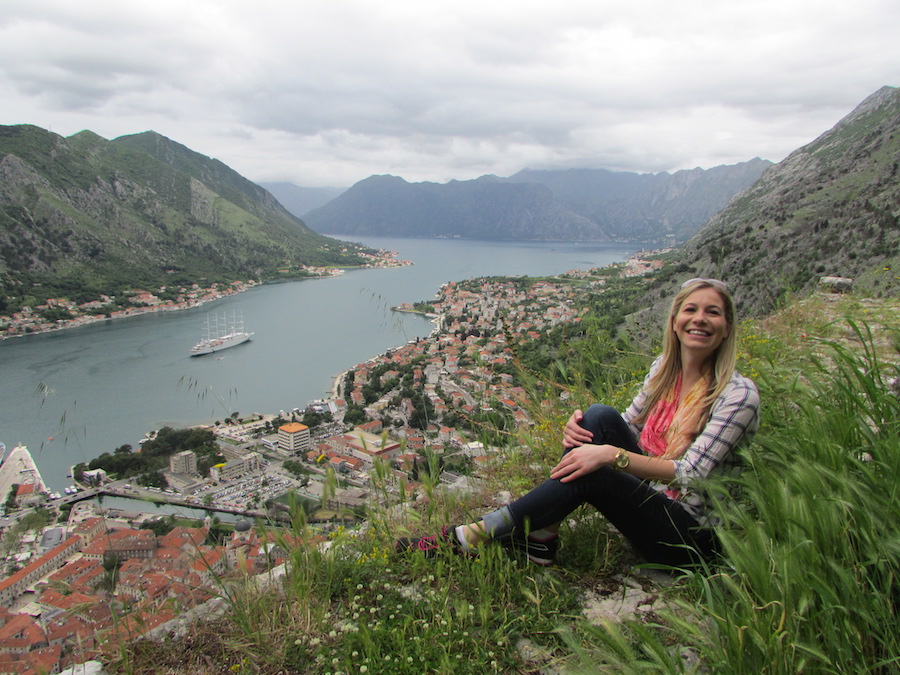 *I know this post is way overdue considering the fact that I traveled to the Balkans over a year ago, but as you may have read earlier this summer, I recently put in some hard work on this blog, including a complete overhaul and redesign. I also revamped up my about section. If you're a new reader and want a little background on my adventure to the Balkans, start here.*
It was definitely interesting to go back and read the journal I kept while traveling to Serbia, Bosnia and Montenegro last year. Accompanied by a cup of Bosnian kafa (probably the best coffee I've ever had), I tried to break away every few days for an hour or so to capture my experiences in real-time. It was tough to take a break in the action to reflect on my day, but I wanted to hold on to the memories I was sure to lose otherwise.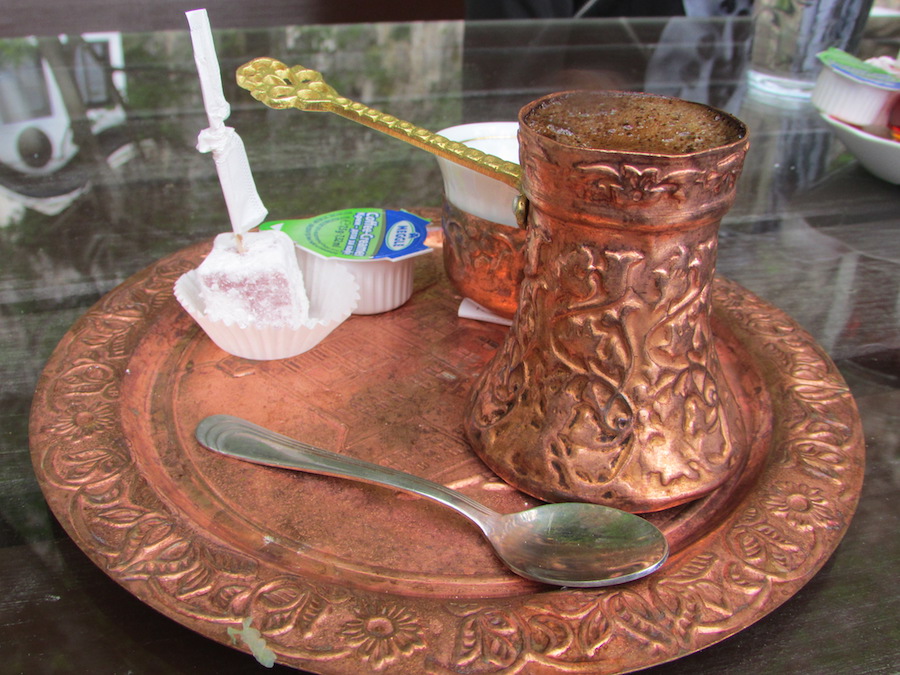 Departing Mostar, Bosnia and Herzegovina on the last leg of our trip, we set off on a four and a half hour drive to Kotor, a coastal town in Montenegro tucked away in the Adriatic Sea. About halfway through our journey we stopped for an impromptu lunch at a traditional Bosnian restaurant. The small restaurant, literally in the middle of nowhere on the side of a Bosnian mountain, wasn't accustomed to serving such a large group and was very enthusiastic to host a rowdy group of Canadians, Australians and Americans.
On a side note, one thing I noticed in the Balkans is that WiFi is EVERYWHERE. Literally. The fact that this small restaurant in rural Bosnia had wireless access is a true testament to the fact that we are now all mobile, all the time. Anyways, done with my technology spiel and back to the good stuff.
Our "quick stop" for lunch lasted 3 hours and ended with Serbian dancing and several rounds of rakija. Sasha, our fearless driver, was not amused. Although he indulged our antics, he lost his patience after a few hours and shooed us out of the place. After lunch, Sasha expertly navigated through rolling mountains and winding streets carrying 11 delirious and wine-happy passengers. We blared the radio, laughed until our stomachs hurt, and played our theme song of the trip on repeat. Our four and a half hour journey quickly turned into eight, and we didn't arrive in Kotor until early evening as the sun was beginning to set.
Magical, bewitching, romantic – I don't really know any other way to describe Kotor, a medieval town with fortifications all around the city's Old Town, reminders of the region's four centuries of Venetian rule beginning in the early 1400s. Located on the Bay of Kotor, Old Town is located in a submerged river canyon, offering views of pristine waters that contrast sharply with brightly colored rooftops and dramatic mountains that carve their way into the sky.
By the time we got settled in to our hotel (the owner was also named Sasha ironically enough), it was late and we were all exhausted. We dragged ourselves to dinner and then called it a night, but not before I snapped a few photos of the medieval Old Town. The lights of the city walls exuded an eerie, bewitching glow and although it was only 9 pm, there were very few pedestrians in sight.
Walking around Kotor's cobblestone streets, you'll notice breathtaking views that are probably the norm for the 13,000 or so people that actually live within the city walls.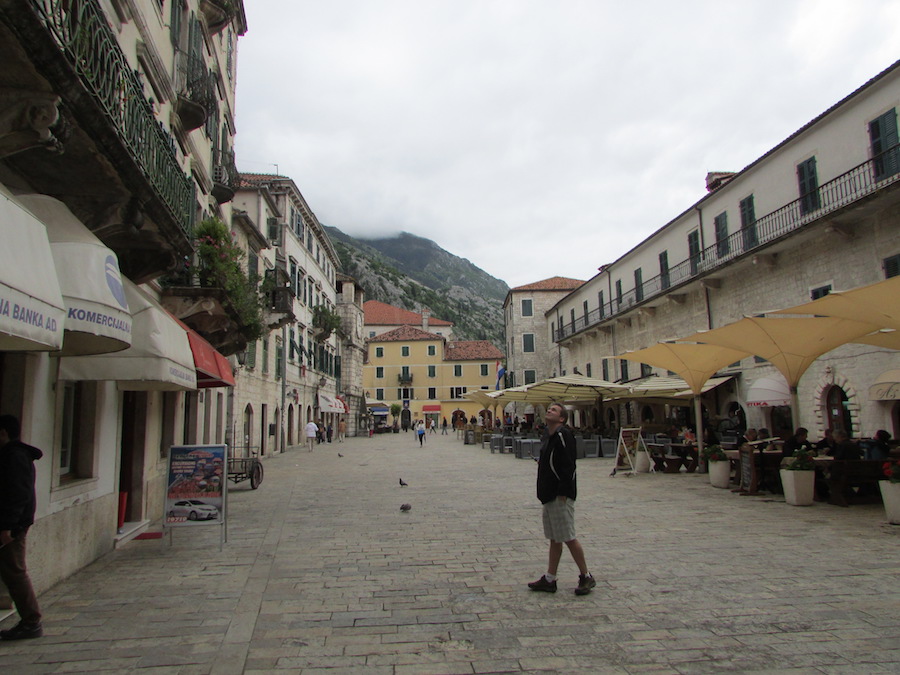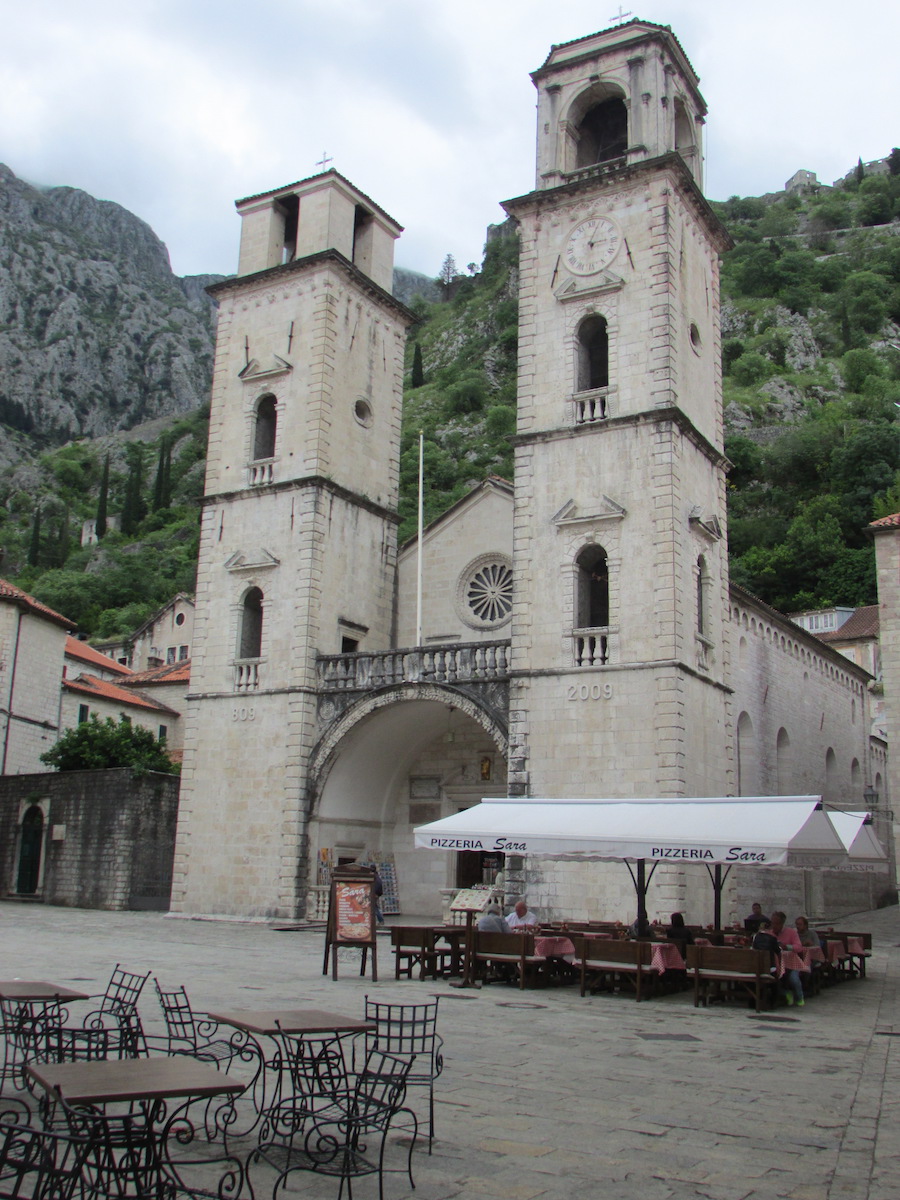 As we hurried to the mountain of St. John in order to beat the rain, I spotted an artist deep in thought, painting the arch in front of our hotel.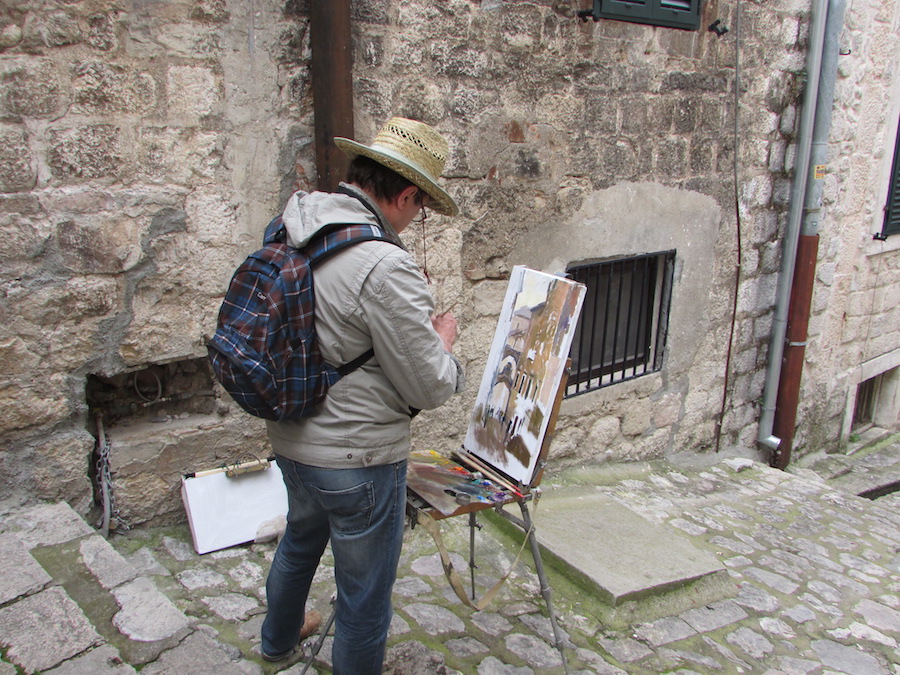 Our group didn't have to go far to reach the beginning of our climb up the mountain of St. John, as it was just steps away from our hotel. Fortunately for us, we climbed the fortress on our only clear day as navigating the steep inclines would have been treacherous during a downpour. The 300-meter trek up offers the best views of the city and for an entrance fee of only 3 euros, is a must-do activity when visiting the Old Town.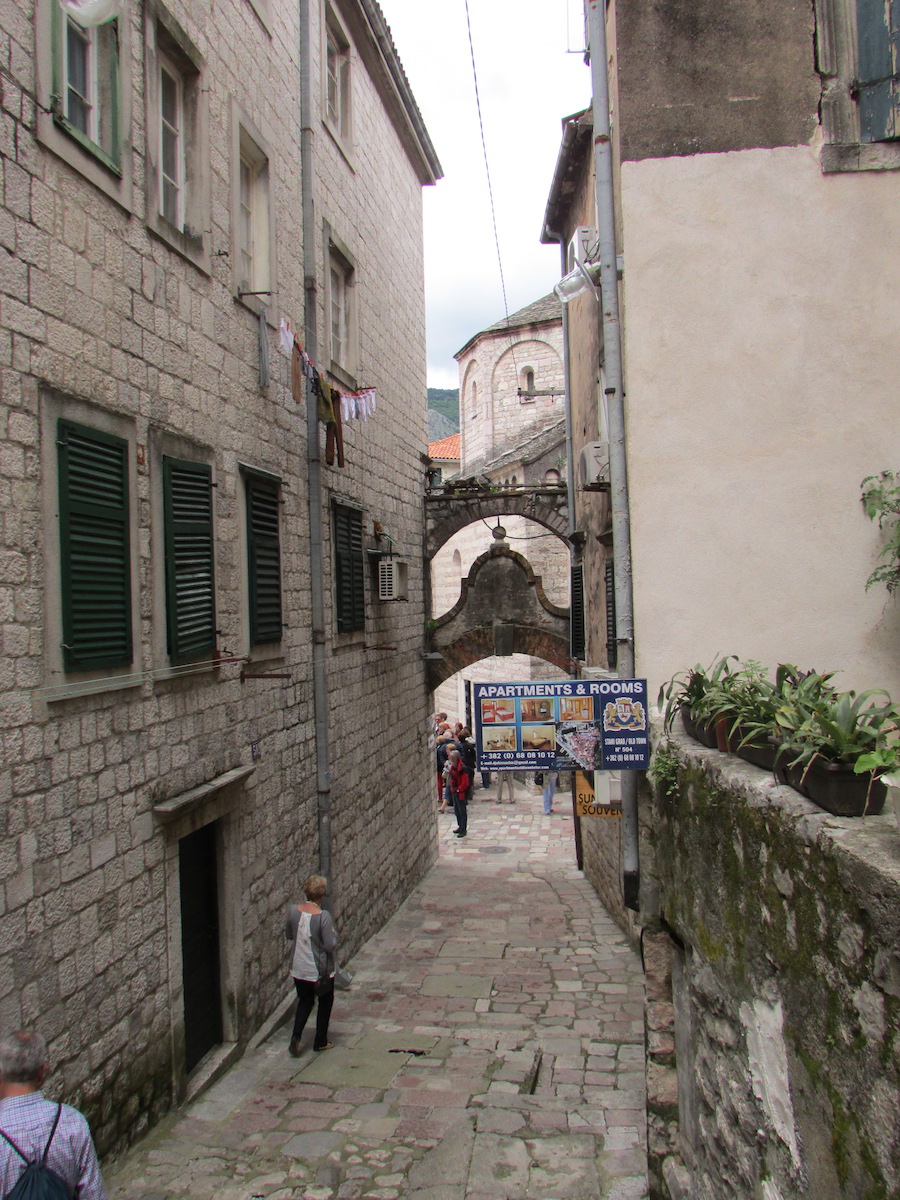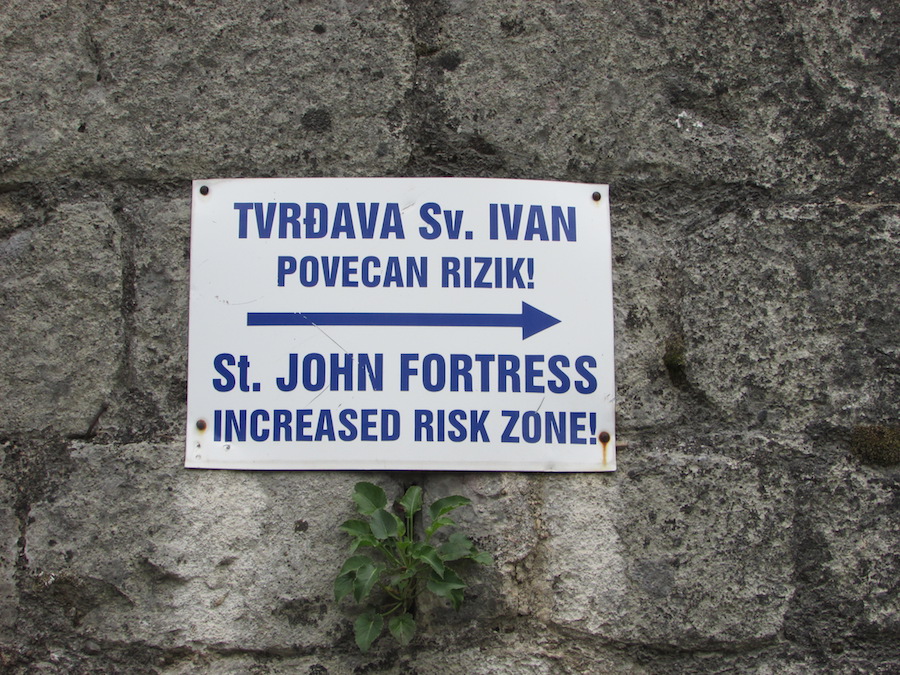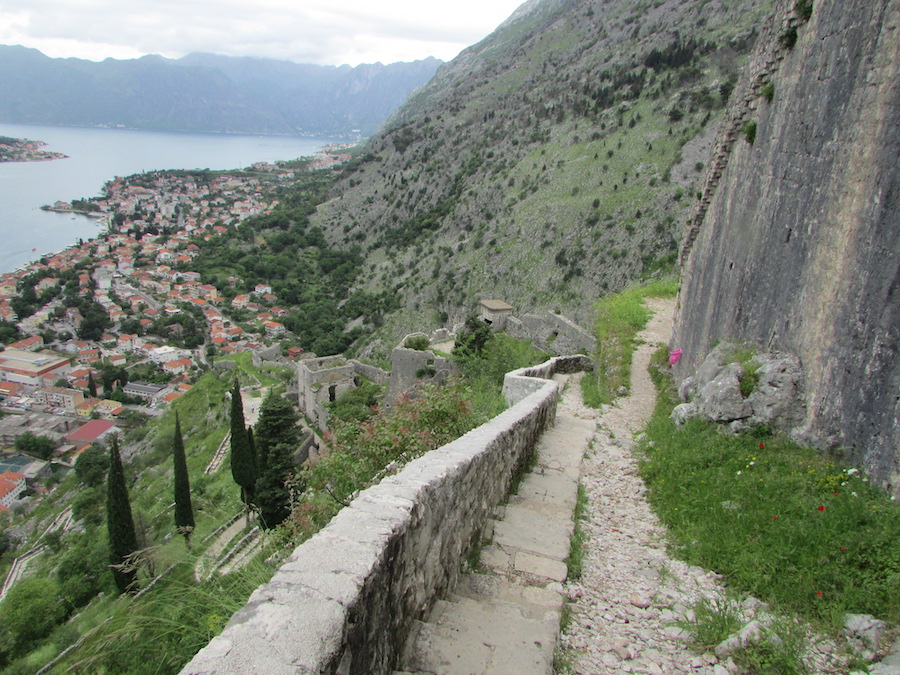 After a couple of hours hiking up the mountain, I was definitely huffing and puffing. But we finally made it to the top.
The remainder of our time in Kotor was spent getting lost in the winding cobblestone streets and marveling at the fortifications surrounding the Old Town, weaving in between the quaint houses and breathtaking mountains. Together with the Old Town itself, the fortifications are a UNESCO World Heritage Site and have protected the city for centuries.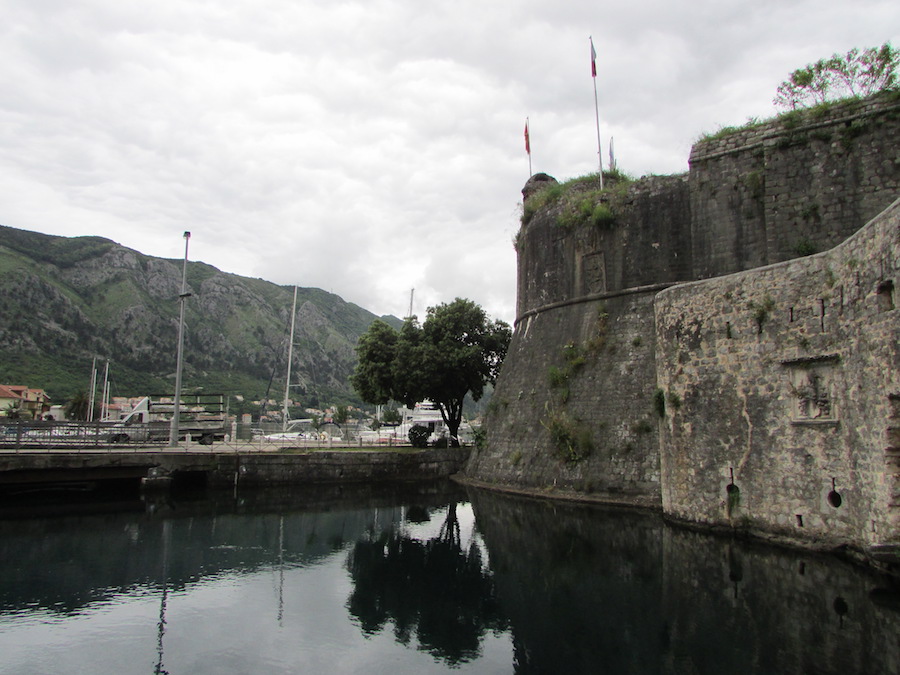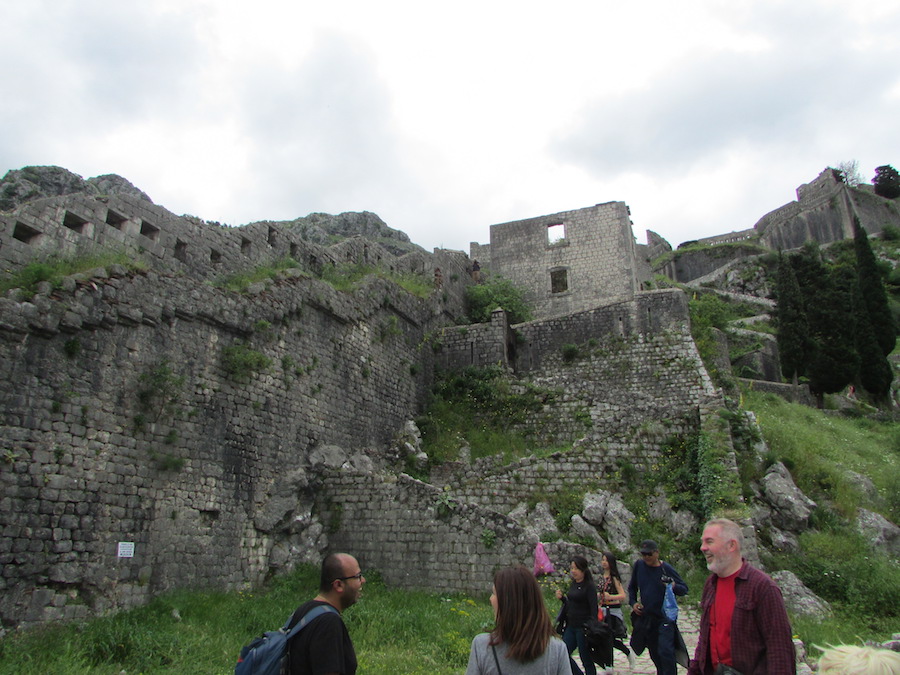 On another note, it didn't take us too long to pick up on why the phrase "Cats of Kotor" is on postcards and T-shirts in all the souvenir shops. The friendly (definitely not shy) cats popped up in alleyways and seemed to be treated very affectionately by the locals.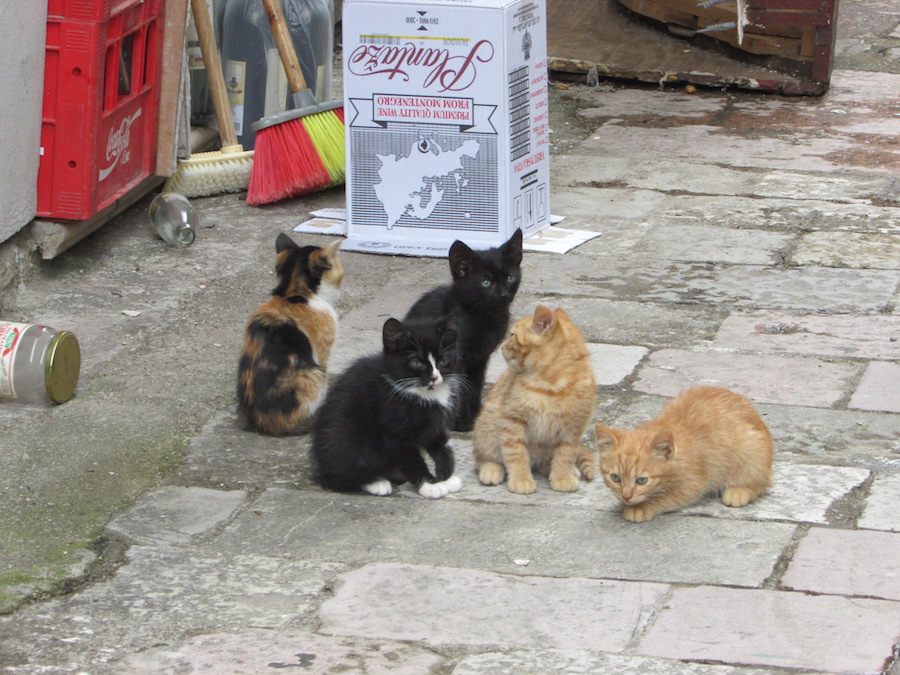 Unfortunately due to remnants of the flooding that was occurring all across the Balkan region, we weren't able to venture as planned to Perast, Budva, or Sweti Stefan, resort towns off the Montenegrin coast.
What is one to do when it's dark and stormy outside? Cuddle up to a bottle of rose of course. The YoGypsy gang camped out at Old Winery, a cozy wine bar located in the heart of the Old Town. We ended up making friends with the locals and stayed until the wee hours of the morning. Our time in Kotor ended with an unexpected 6 am flight back to Belgrade (more to come on this in a future post).
The quaint, coastal town of Kotor offers a unique landscape unlike any other I've seen in all of my travels. If you want to check out the beauty and serenity of the Mediterranean without the cruise ship crowds, Kotor is definitely the place to go.