Wow, I can't believe it's been almost two months since my last post. Summers in Chicago are short which means I have to make the most of it! Over the past few months, my weekends have been occupied with weddings, music fests, and visits from some of my favorite people. As summer comes to a close (I can't even think about it!) my posts will become more frequent, I promise! Without further ado…
Belgrade was gritty yet enlightening, Mostar was quaint and memorable, but Sarajevo, the capital and largest city in Bosnia and Herzegovina, captured my heart. Sarajevo was the second stop on our #YOGYPSY tour of the Balkans and probably my favorite (although it's a tough call).
Before I get into the details of our stay in Sarajevo (which I'll cover in a future post), I can't go without mentioning our journey, as it is worthy of a dedicated blog post of its own. After two amazing days in Belgrade that involved climbing a fortress, catching the sunset at a rooftop bar and sharing rakija with a Serbian cover band, we boarded our bus for Bosnia at 9:30 AM sharp. It was here that we met our tour guide, Sasha, who stayed with us throughout our travels in and around the region.
An entire blog could be devoted to Sasha so I won't get into too many details here. Let's just say he is a former member of the Serbian Special Forces turned Lufthansa tour operator, a very interesting character to say the least. He has a cousin in Chicago (what are the odds), is scheming to move to Berlin, and believes every man should have three wives. Yep, I think that pretty much sums it up.
The distance from Belgrade to Sarajevo is about 124 miles, which you would think should take about 2 hours of driving time. As we began trekking up the remote mountains and stretches of narrow, two-lane roads, I realized this wouldn't be the case. We could see Sasha's patience being tested as he navigated us through the rolling hills, especially during our loud and oftentimes inappropriate conversations.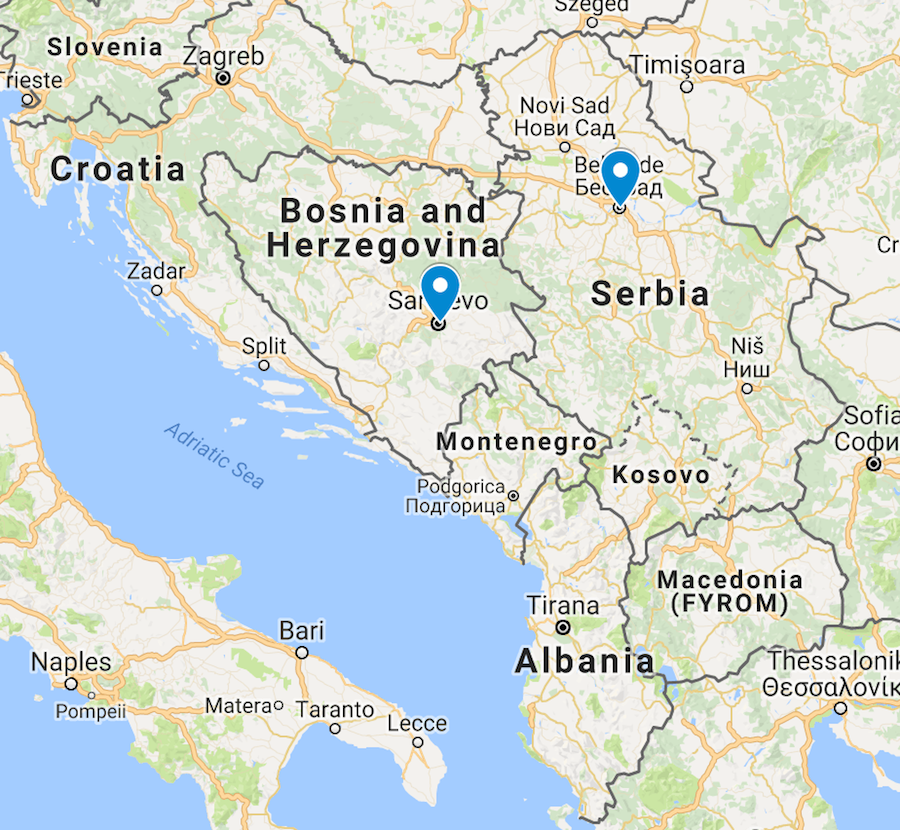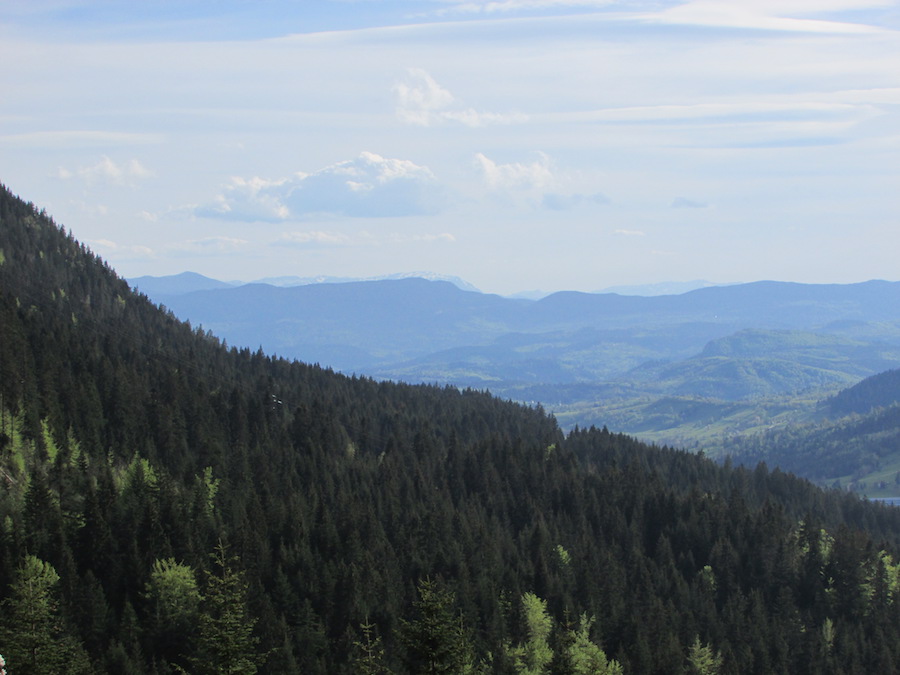 Soon after we began our road trip, Sasha informed us that we would be stopping for coffee so he could finish some paperwork for the border crossing, and that we would be stopping again soon after that for lunch. We weren't really given a choice in the matter and after just a few short hours with Sasha, learned quickly not to question his decisions (or directions). So, we stopped in the remote Serbian town of Banja Koviljača, with Sasha leading the way, to have a coffee.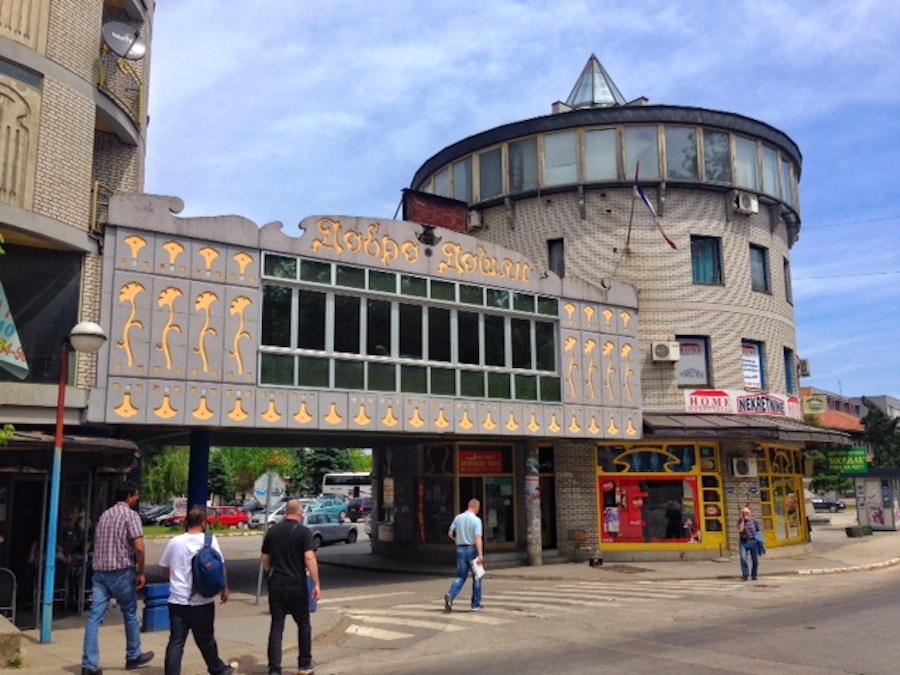 Sasha sat at a corner table and furrowed his brow over the paperwork while our group debated between beer or coffee (five o'clock somewhere right?). When he was finished, we boarded the van and within two hours, arrived at the Bosnian border. I'm fairly certain a van full of Australians, Canadians and Americans was quite the sight as we pulled up slowly to the station. Initially, Sasha collected our passports and handed them over to the Border Police. After some discussion, a stern policeman insisted on boarding the van to carefully inspect our documents. Although photographs were strictly forbidden, I did manage to snap a few. After what sounded like an intense and aggressive conversation between Sasha and the policeman (we later found out they were just joking around) we were finally allowed to cross the border into Bosnia.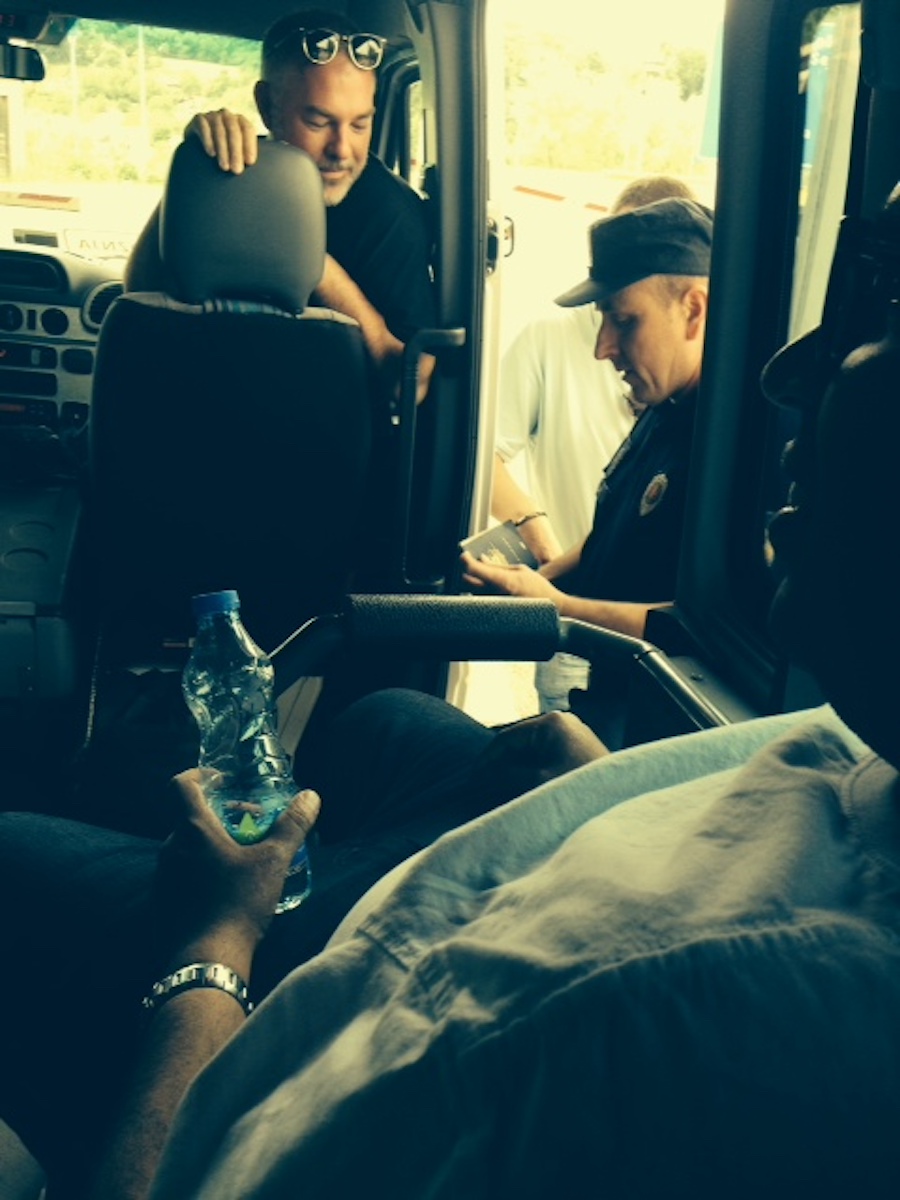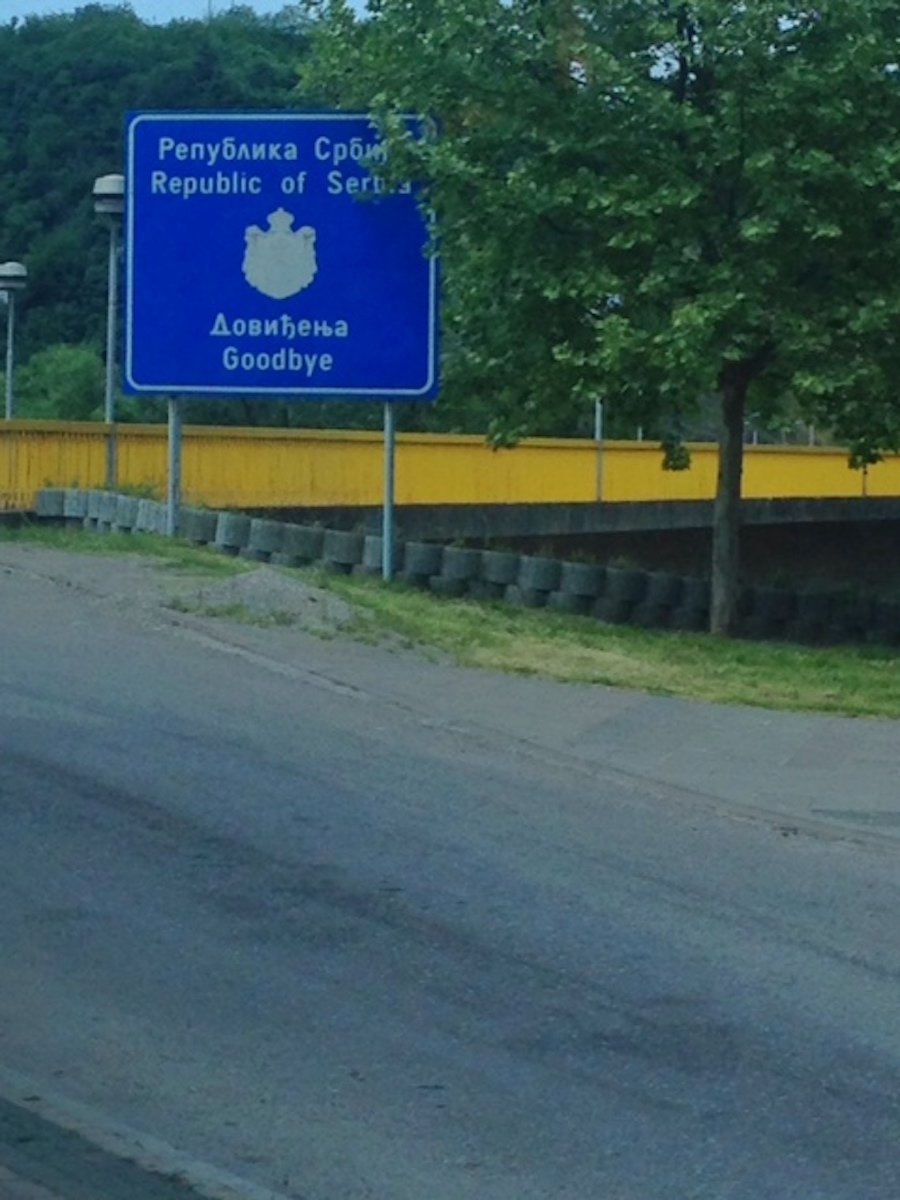 We continued on our way, stopping every so often to snap pictures of the surreal landscape. About an hour later, we stopped at Motel Milici for lunch. It was no surprise that we stopped here with Sasha leading the way, as the restaurant is located in the Republicka Srpska. Whatever the reason, the fresh fish was delicious and it was at this locale that I sampled Nektar, a German pilsner brewed in Bosnia and Herzegovina.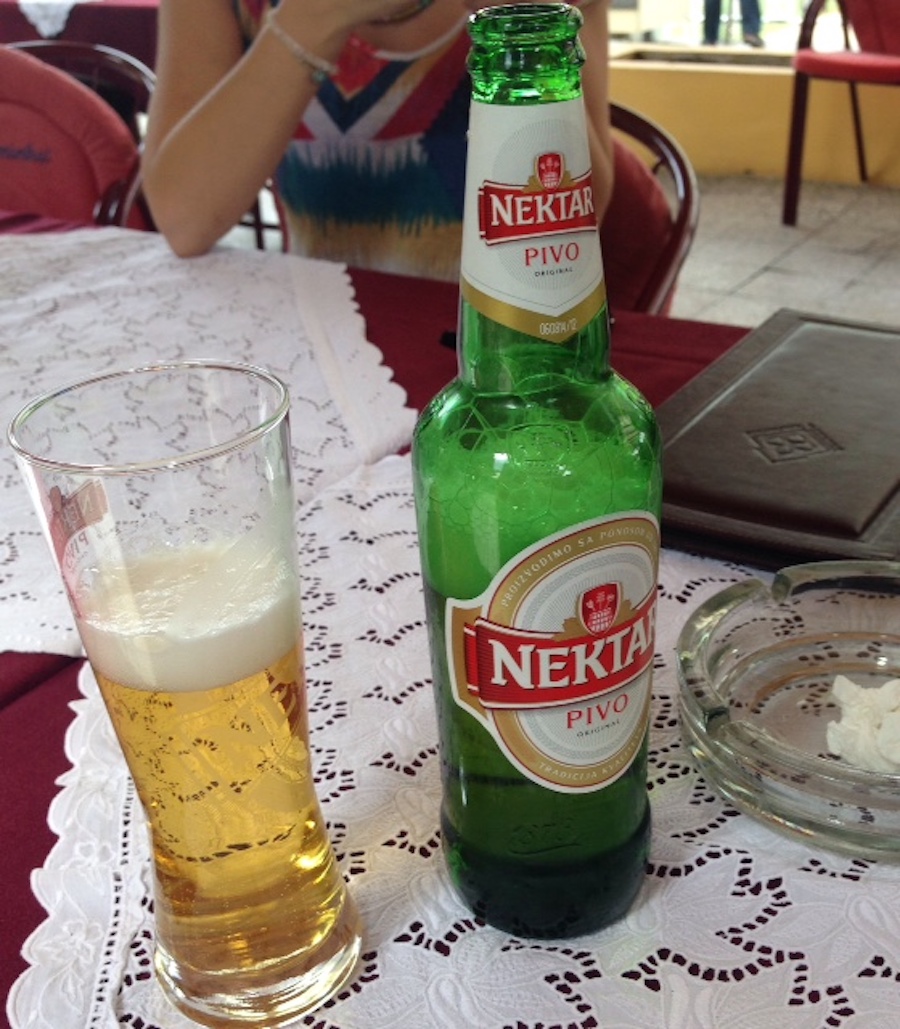 Republika Sprska (otherwise known as the Bosnian Serb Republic) is one of two political entities in the country, the other being the Federation of Bosnia and Herzegovina. The republic is known as the ethnically cleansed Serbian entity of the region and was declared autonomous prior to the devastating Bosnian War in 1992. As the subject is still contentious among many, I won't go into too many details about the Bosnian War here and will let you do your own research in order to form an opinion. Let's just say there is no shortage of Serbian nationalists in the Republika Sprska, many with strong opinions and dissent over the tumultuous and violent events that occurred. The shield of the Republika Sprska was displayed prominently outside of the restaurant.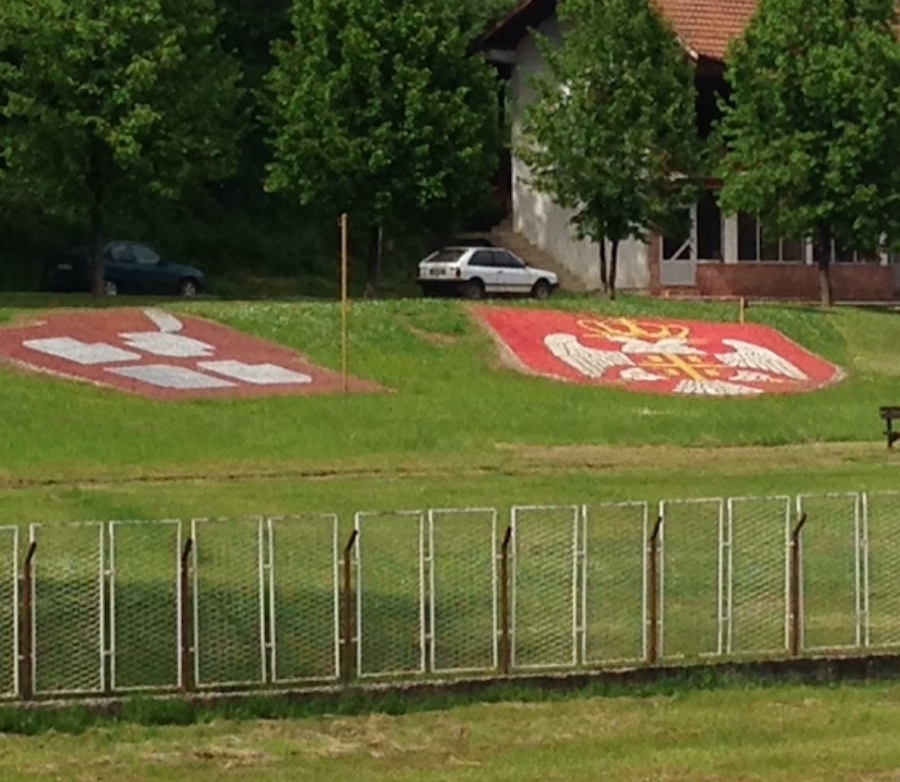 After a few more coffee breaks and stops for gas, we arrived in Sarajevo at dusk, as the sun was slowly creeping over the buildings. There is definitely no shortage of stories from this amazing trip so I'll continue to blog about my experiences in the Balkans over the next several weeks. Stay tuned!