A few weeks ago a good friend of mine came to visit from DC. She had already been to most of the touristy spots here in Chicago, so I wanted to show her around a few of the eclectic neighborhoods in the city. Because the Wells Street Art Festival in Old Town is one of the "must do" events here in Chicago, I decided it would be something fun to go check out.
On Saturday and Sunday, Wells Street was lined with hundreds of artists looking to showcase and sell their work. The art featured was of a diverse variety – including jewelry, photography and 3D sculptures. The price tags for the larger pieces (including the gorgeous panoramic photo canvases I was in love with) were fairly hefty, but you could purchase many of the smaller items at a reasonable price (including the vintage key necklace Meredith bought!)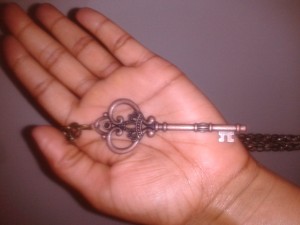 One of the booths that really caught our eye featured Renee King; an artist who creates oil and acrylic paints as well as mixed media art. Her paintings were heavily influenced by the underground jazz culture in Florida, featuring saxophones and other instruments in vibrant, sultry colors.
As I went to snap a picture on my phone, Renee ran over quickly to see what I was up to. She said that in the past, individuals have tried to zoom in on her paintings with DSLR cameras, looking to recreate them. After chatting with us for a bit, Renee let us take a photo of her booth area (guess we passed her test!)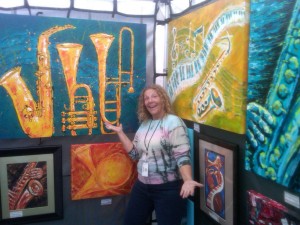 As we made our way down Wells Street towards North Ave, we came across some very odd 3D pieces – including bizarre ceramics and animal-like sculptures created with wire.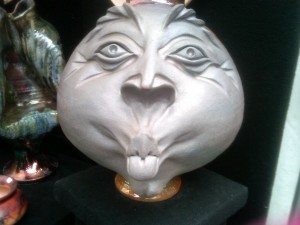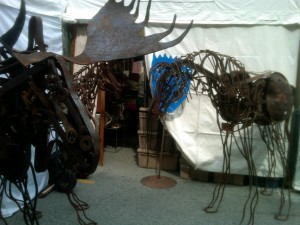 The event was entertaining for both adults and kids alike. It was nice to get out and enjoy the beautiful day with my girlfriends, and our furry friends as well!